| | |
| --- | --- |
| Posted by anonymous on August 14, 2017 at 2:55 PM | |
Oh, my heart!  The next chapter in Marin and John's love story was celebrated at the St. Norbert Arts Centre.  Every detail of this whimsical wedding was authored by Marin, and attests to her DIY creativity.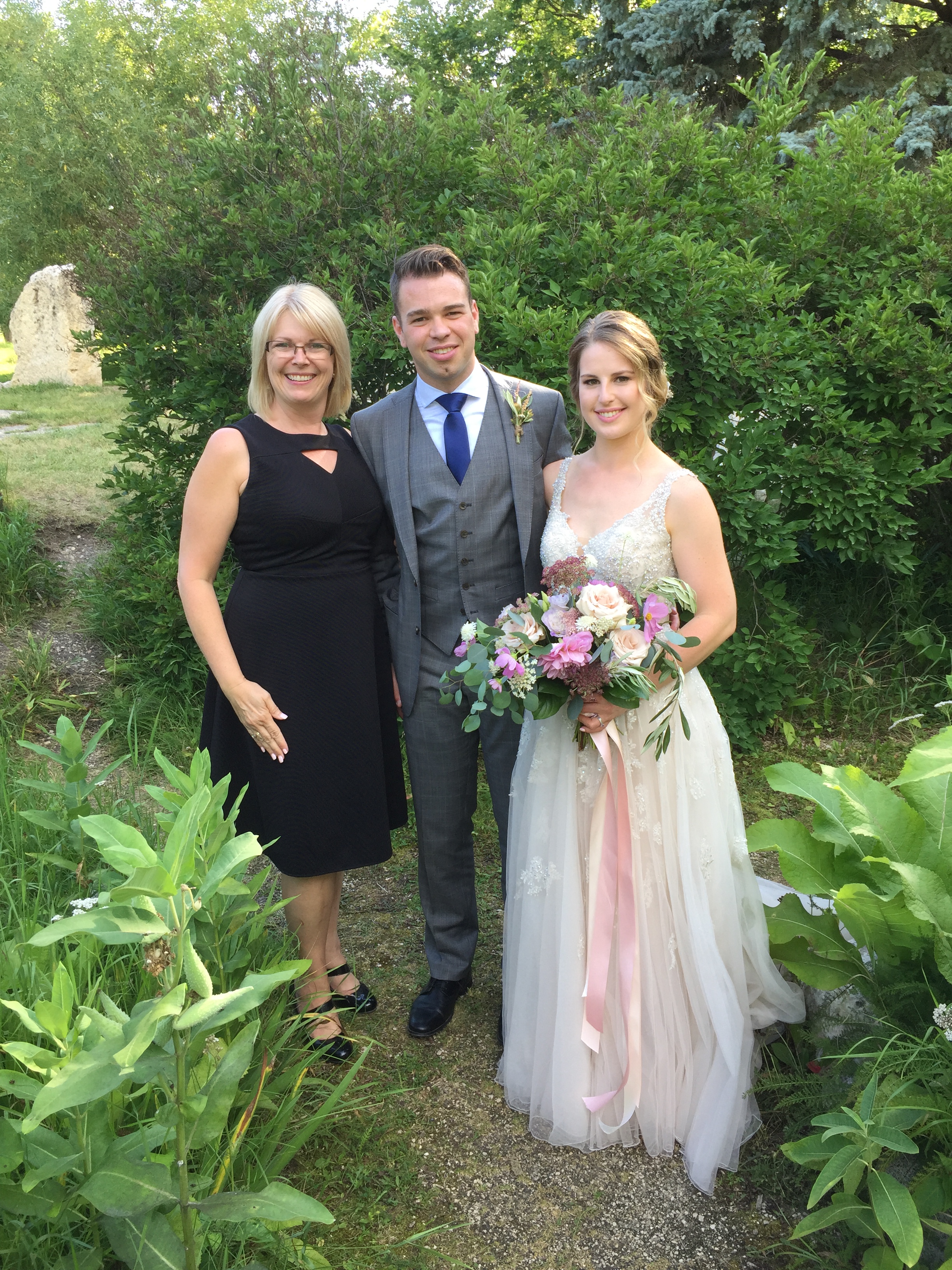 The grounds of the St. Norbert Arts Centre are quaint; the stately home is set in an overgrown English garden and boasts boardwalks and bridges.  A friend of Marin's sewed garlands of banners and these were strung along the handrails of the walkways.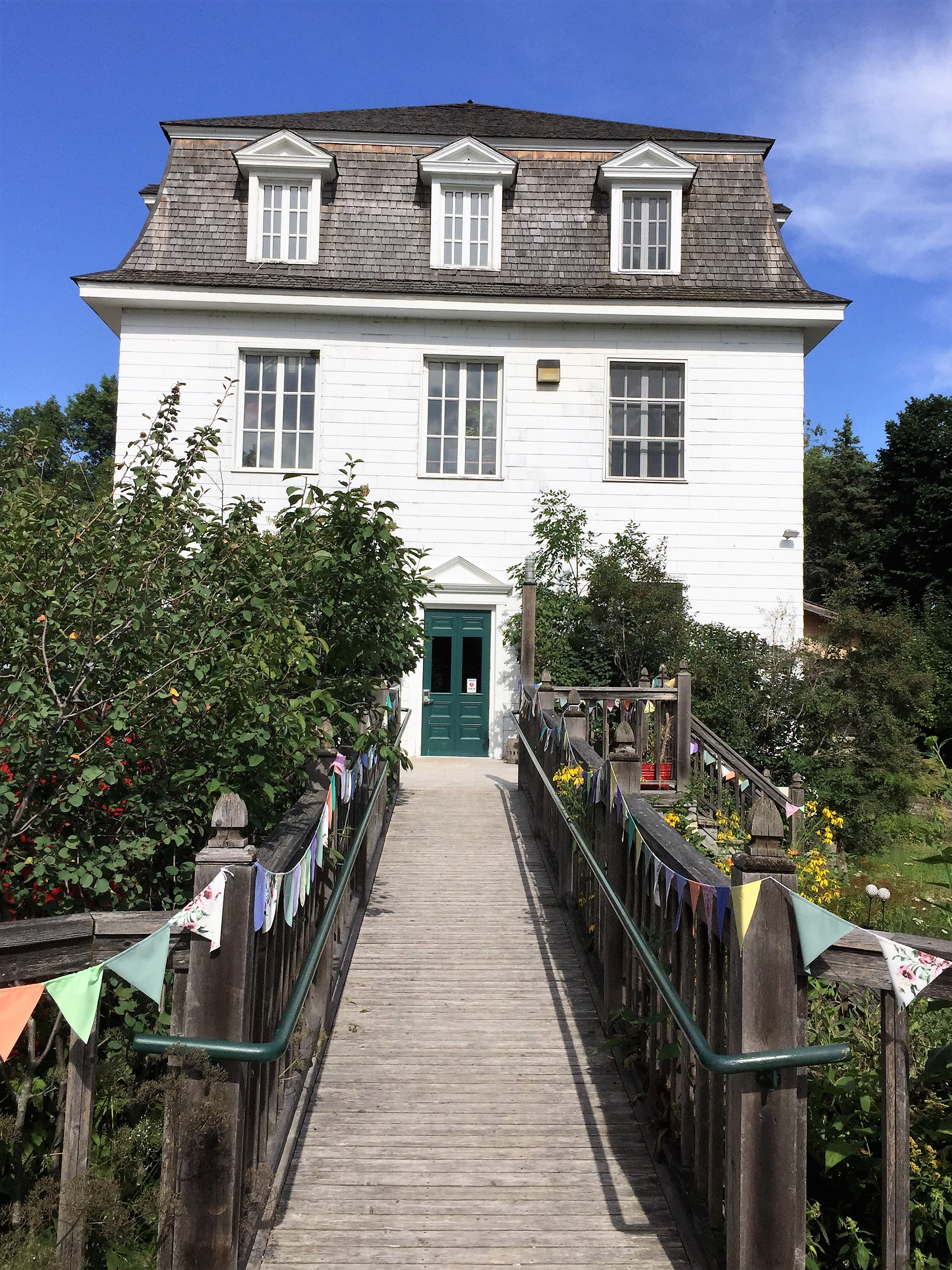 The ceremony space included an arbour festooned with beautiful blooms.  Luminous String Quartet played arrangements of both classic and modern tunes and, as they were set up on the verandah, the music floated over those assembled.  Lights strung through the trees would be magical once the sun set.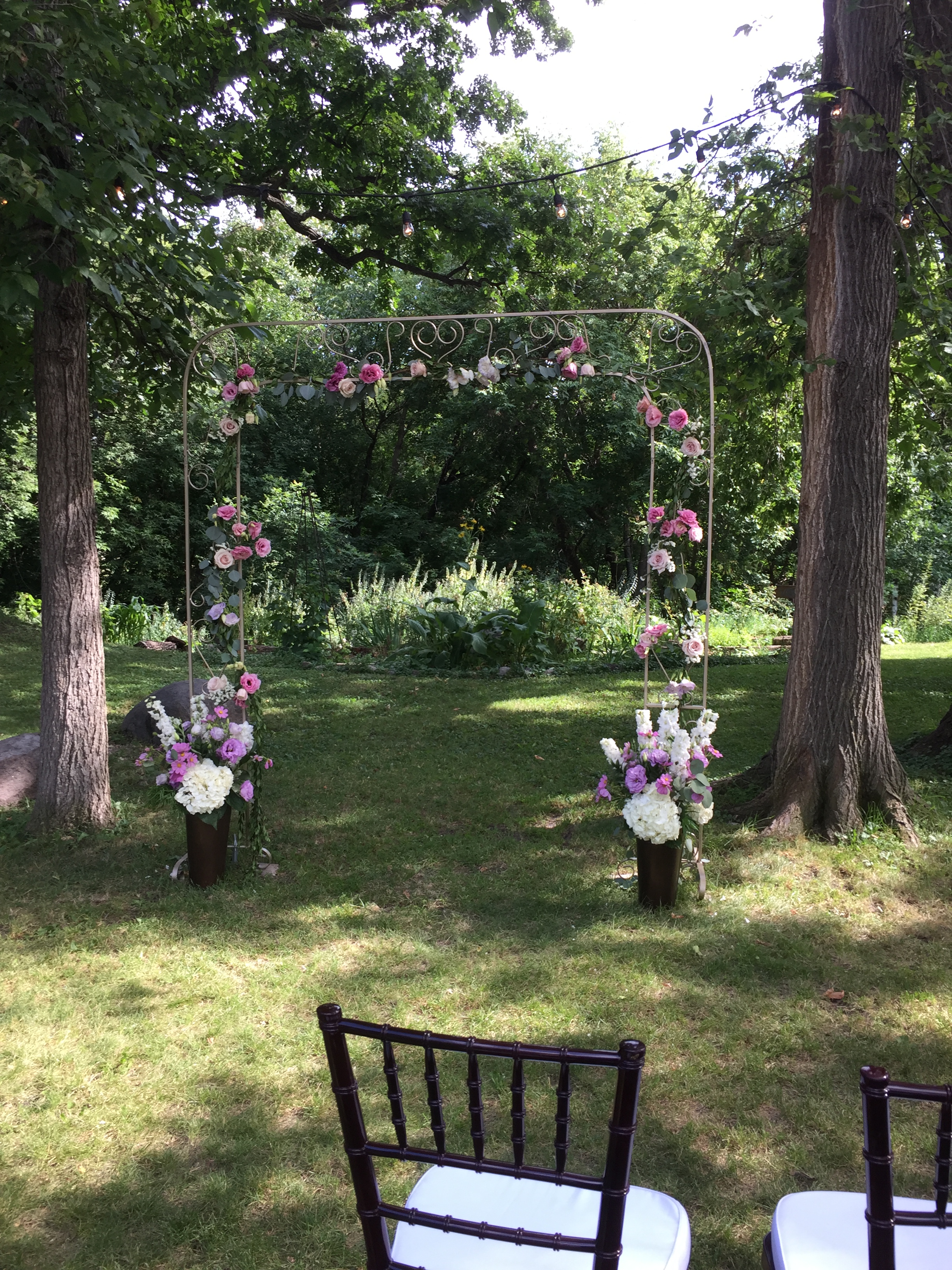 Marin and John created a ceremony with me and wrote their own, heartfelt vows that recalled their history together, what they loved about the other, and the promises they would strive to keep for all of their lives, together.  A beautiful touch was the element of hand-fasting we included.  The handfasting reading was The Blessing of the Hands, one of my favourite readings, and the cords used to bind their hands were lengths of tartan and a ribbon printed with a quote from Guess How Much I Love You, "I love you to the moon and back."  Marin and John chose not to have a wedding party and it made the ceremony feel that much more intimate.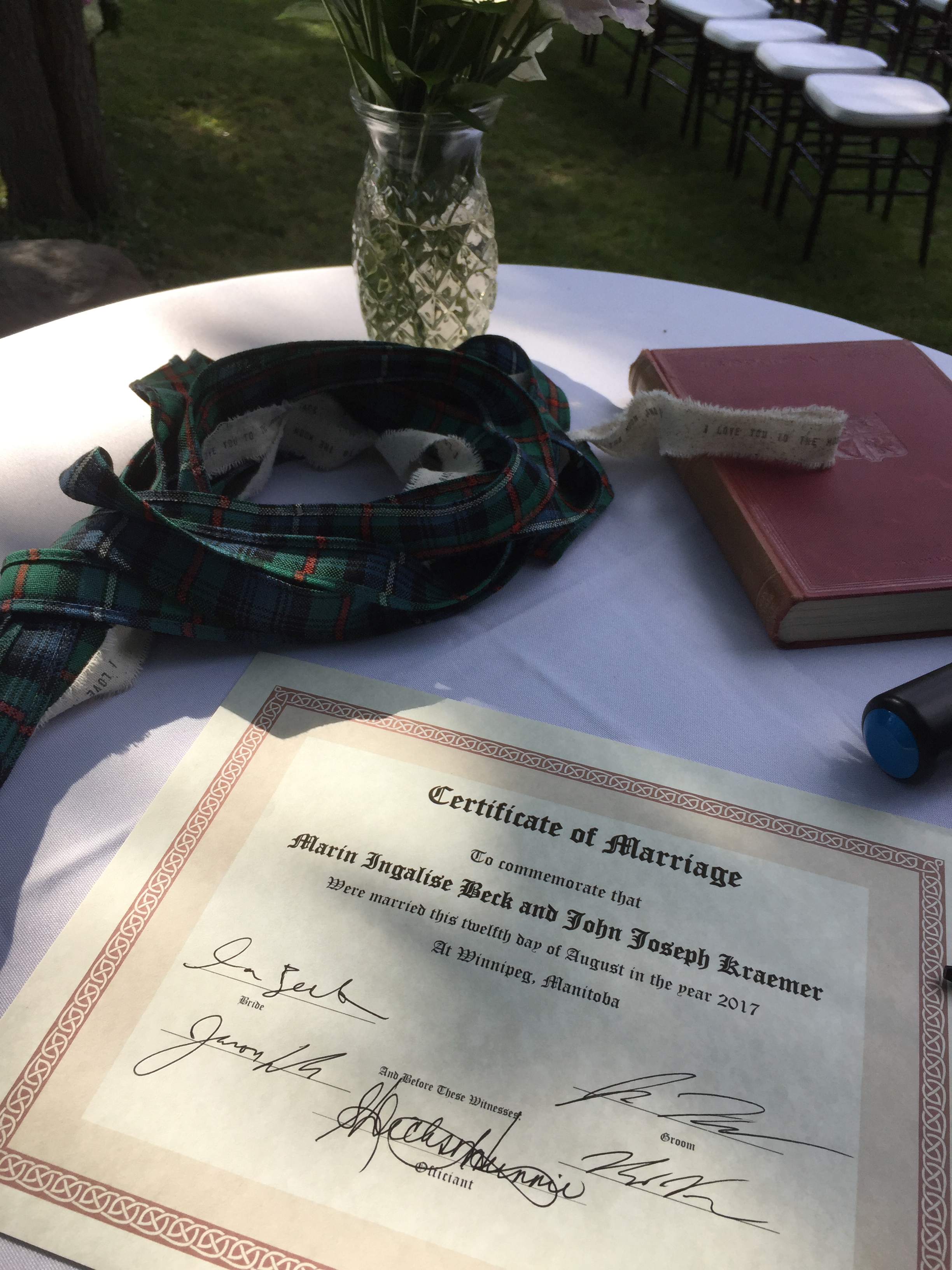 It was inside the reception space where Marin's vision really took shape. Because of their shared love of reading, what better way to begin the next chapter of their love story than surrounded by books?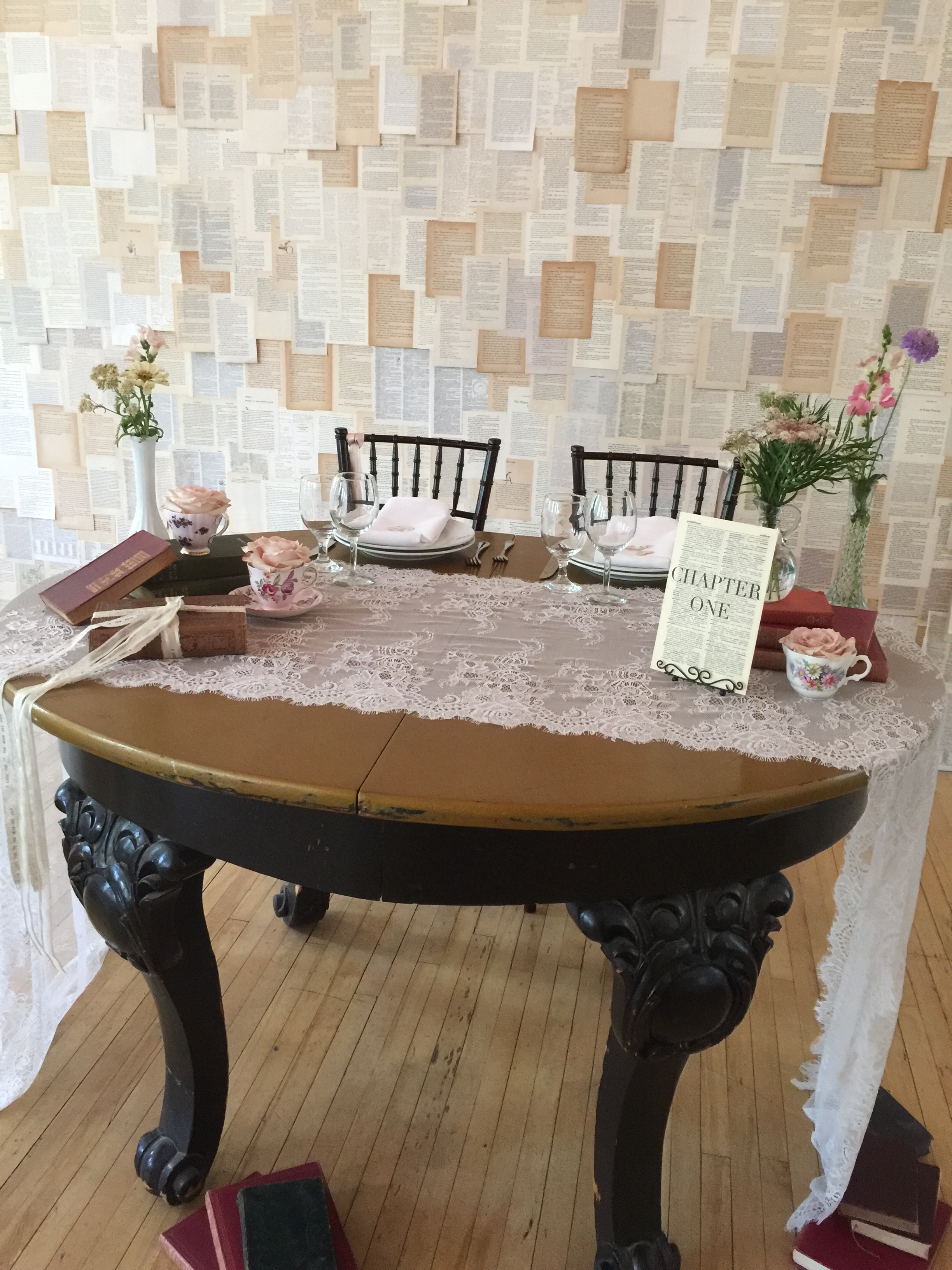 Marin made the backdrop of pages of their favourite novels, the tables were named for authors, and the seating chart was made of library cards with the wedding date as the "due date".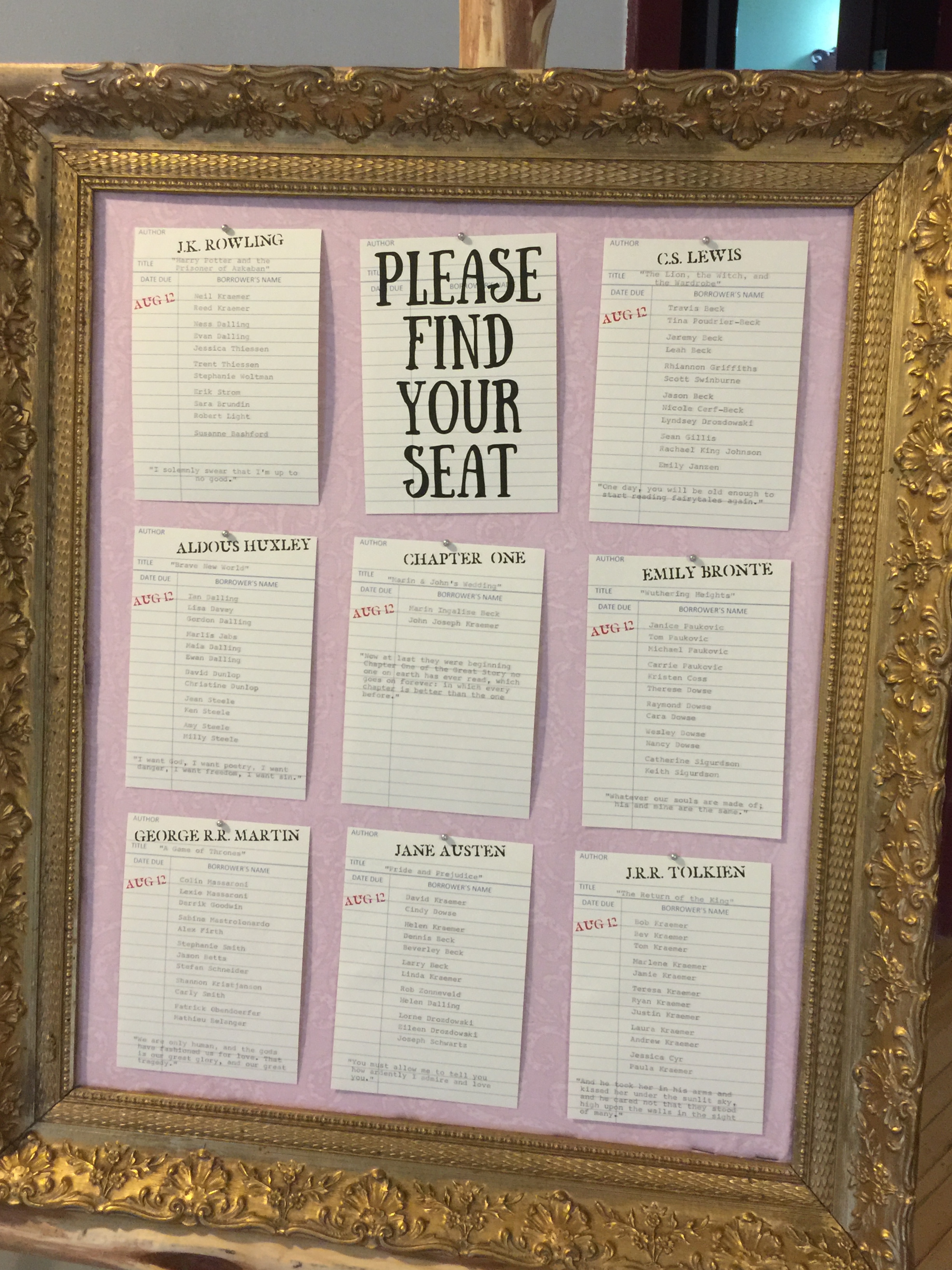 Place settings were adorned with tiny paper hearts punched from book pages.  Centerpieces included books, vases of flowers, and tea cups.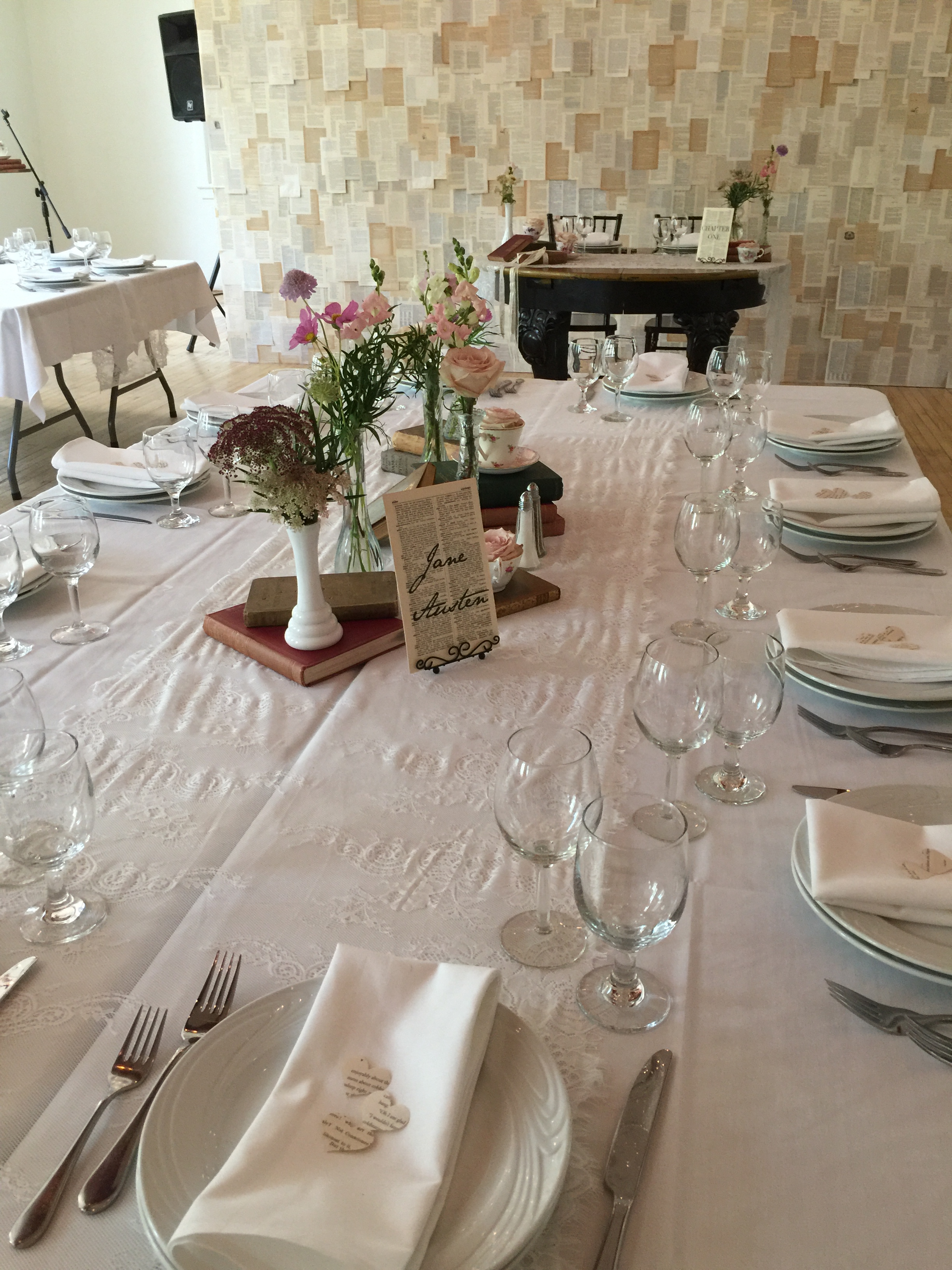 Marin and John had a sweetheart table called "Chapter One" and a quote which read, "Now at last they were beginning Chapter One of the Great Story no one on earth  has ever read, which goes on forever: In which every chapter is better than the one before." I wish them a story filled with adventure, a few plot twists, and the happiest of endings.

| | |
| --- | --- |
| Posted by anonymous on March 20, 2016 at 8:15 PM | |
I am pleased to share this blog post from The Wedding Guru, aka, Tammy Ouelette of Divine Weddings.  I had the please of working with Chandra and Chris to create their ceremony and to officiate at their gorgeous wedding at Bridges Golf Course.
| | |
| --- | --- |
| Posted by anonymous on March 9, 2014 at 1:40 PM | |
Although there are many wonderful wedding venues in Winnipeg, for pure opulence, there is none better than the Fort  Garry Hotel. Emily and Jeff chose the seventh floor spaces of the hotel for their gorgeous celebration.  The ceremony was held in the Concert Hall Ballroom and I truly believe this to be the most stately venue in all of Winnipeg.  The fact that we were on a stage for the celebration of the marriage only served to gladden my drama teacher's heart.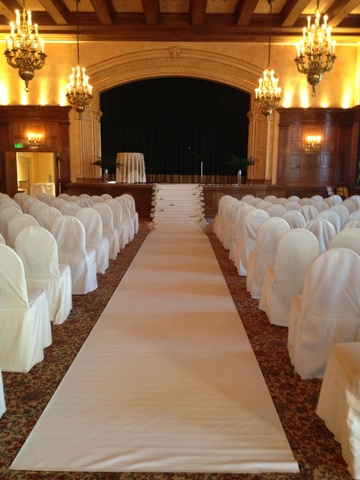 The loggia with its many conversation areas, all beautifully appointed,  were excellent locales for photos, and the small fireside room was bedecked with family portraits and featured a bar which served up signature cocktails. The foyer space was used for cocktailsand appetizers before the doors to the Crystal Ballroom opened for dinner.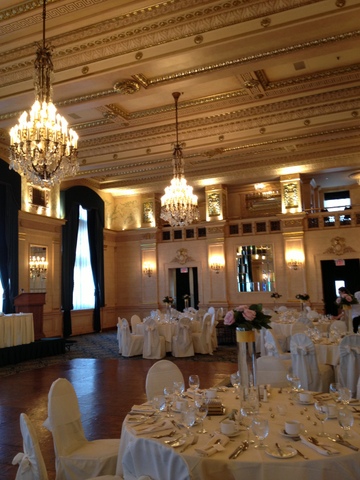 I loved the whimsical touches in Emily and Jeff's Fort Garry Hotel wedding.  When you start with a space as inherently elegant as the Fort Garry, you can afford to really focus on the details.
Guests were given beribboned wands to wave when the ceremony had ended and the effect was delightful.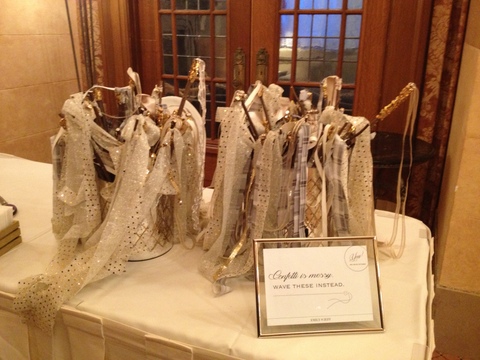 Emily and Jeff's wedding had details in spades!  I loved the wedding programs they created in the form of a newspaper.  The format allowed Emily and Jeff to share their story as well as give the ceremony "Who's Who".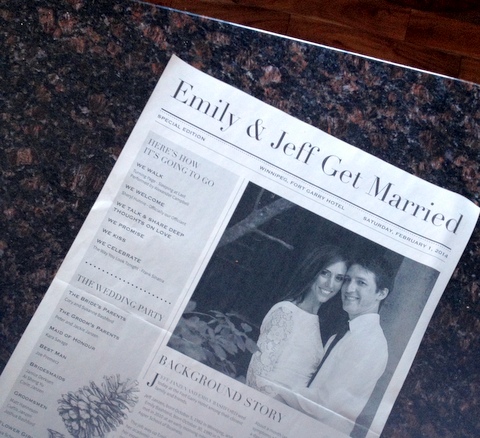 Table numbers were replaced with hand-gilded animals, which somehow did not look out of place in the grand ballroom. 

I later learned their guest favours were piecesof gold- embellished flatware; the thought being that whenever you used the "odd"piece, you would remember where it came from.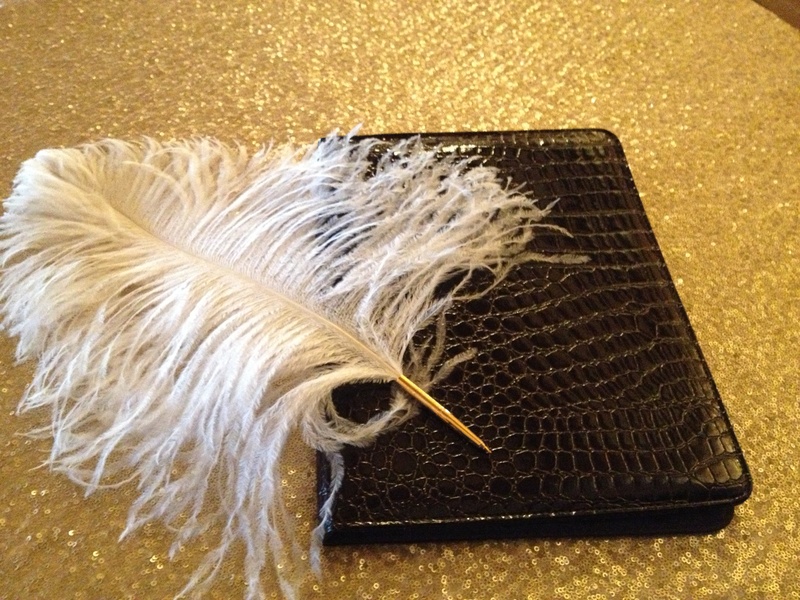 The ceremony itself was lovely.  Emily and Jeff were easy to work with and the ceremony we created together was a reflection of who they are together.  There were moments when the whole gathering was asked to participate, either by voicing their continued support for the couple, or in quiet reflection of their own loving relationships.  There were moments that were profoundly moving, and other moments (like the game of 'rock, paper" scissors" that seemed to go on for a number of rounds before "who goes first with their vows" was determined) that moved us to laughter. This is always my favourite part of being a Marriage Commissioner: when two people in love are willing to share their joy through tears and laughter with each other and their friends and family…and me.  I much prefer thinking of myself as a Celebrant, rather than an Officiant.
Thanks, Emily and Jeff, for allowing me to be a part of your very special day.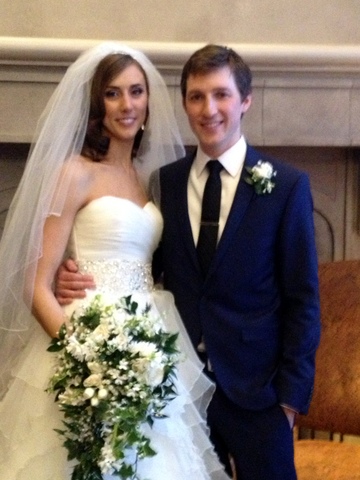 | | |
| --- | --- |
| Posted by anonymous on August 19, 2012 at 10:55 PM | |
What I have learned in the past 2 years is that there is no such thing as a "typical" wedding. I have seen both ends of the spectrum: from lavish and extravagent weddings at a posh hotels to the "just us and a few witnesses on the deck" ceremonies.  In all cases, the end result is the same:  Married! I absolutely loved the country details in the August 18th wedding of Miranda and Huw and thought I would write about how a simply beautiful wedding on a modest budget can be achieved.
Miranda and Huw opted to host their guests in a large yard in Anola, Manitoba.  They were blessed with a beautiful day and were married under the big prairie sky.  The bride had chosen a blue, white, and yellow colour scheme which was perfect in the outdoor setting mirroring the sky and wheat. A simple, rustic arbour helped to define the space and guests were seated on sheet-covered haybales.  A white runner edged by hay created the aisle and was flanked by white lanterns suspended on stands. To one side, a simple white table and chair held a navy and pearl covered box where later in the ceremony, Miranda and Huw would place love letters written to one another to be shared on their 10th anniversary.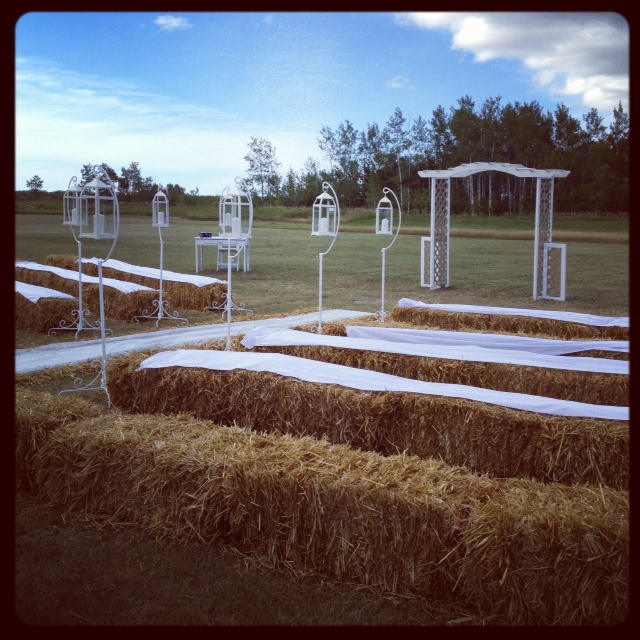 The reception tent held long tables that were draped in white linens.  Burlap runners and navy napkins bound with jute and adorned with yellow straws added a pop of colour,as did the big bunches of cut flowers in simple glass vases. White lanterns containing large pillar candles sat on the table to be lit after the sun went down.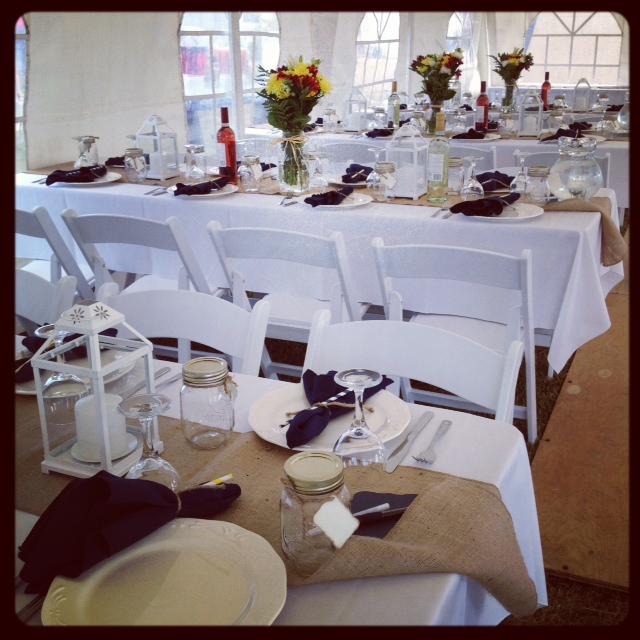 A display of guest favours (mason jars filled with cookie dough ingredients and covered with a navy and white fabric) was created in an applecrate and added to the rustic charm.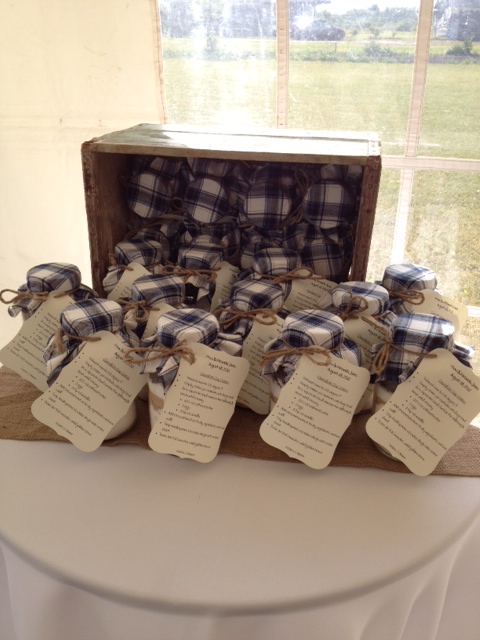 The total cost for the wedding fell under $5000.  How did she do it?  Miranda says, "I used the wedding show as a great starting point and kijiji. I spent many long nights on the computer searching for the best prices. My biggest thing was the burlap runners and that was the hardest to find but I spent a lot of time shopping around since we had a tight budget. We didn't want it to look like we cut corners and we didn't want something that looked "cheap" so I think that was our biggest challenge. Most rewarding was finding things that worked together and seeing them all set up: right from  the bales to the table runners to the mason jar cookies to the cake stand."