| | |
| --- | --- |
| Posted by anonymous on August 6, 2015 at 12:05 AM | |
I had the absolute pleasure of officiating at a very special ceremony this summer. 
My aunt and uncle renewed their wedding vows on the occasion of their 50th Anniversary. It was such an honour to officiate for them and to celebrate this milestone with the people I love best. Past, present, and future play a different role in a celebration of long love. The vows they renewed have already been lived many times, and so there was a depth to the words that resonated on a different level. In The Art of a Good Marriage (Wilfred Arlan Peterson) there is a line, "(Marriage) is forming a circle of love that gathers in the whole family." The truth of this was never more evident.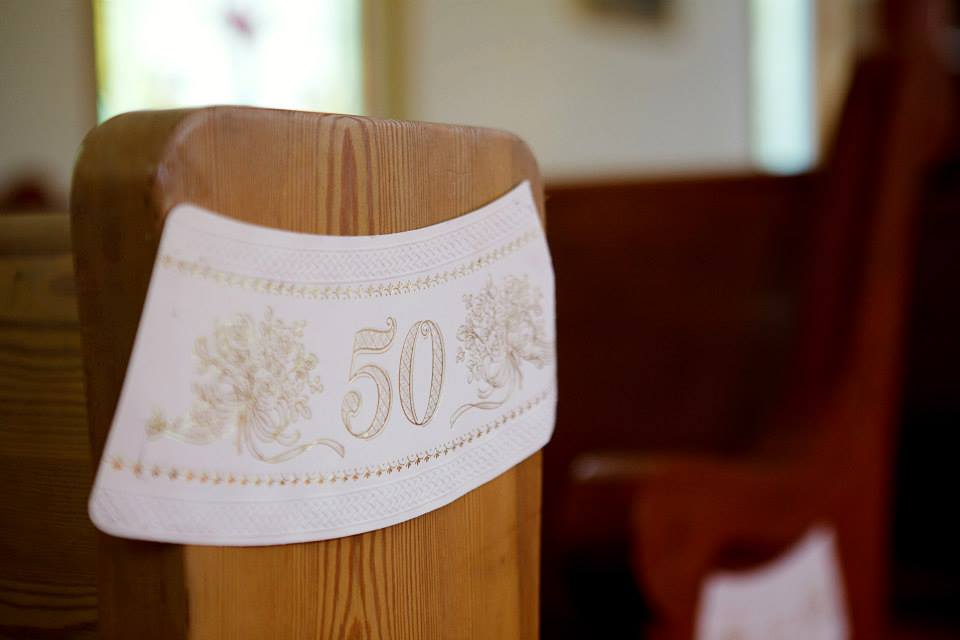 The ceremony was held in a little chapel in the woods near Rainy River, Ontario.  Because this was not a legal ceremony, I was able to officiate.  We worked at creating a beautiful ceremony that gave honour to all the commitments they have made to each over over their lifetime together.  It was interesting looking at readings and vows and reworking them so that they looked back as well as forward.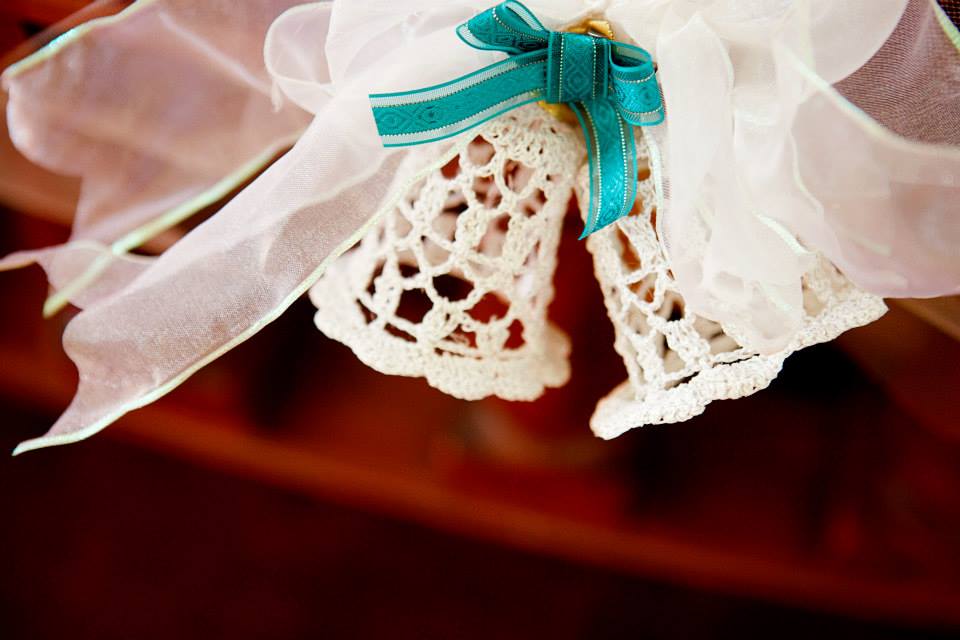 We are a sentimental  family, and this was evidenced through all of the lovely touches my aunt included:  the wedding bells were crocheted first for my own wedding 25 years ago by my grandmother.  They have graced the aisles of every family wedding since.  Three generations have now used them.  When they aren't doing aisle duty, we hang them on our Christmas trees.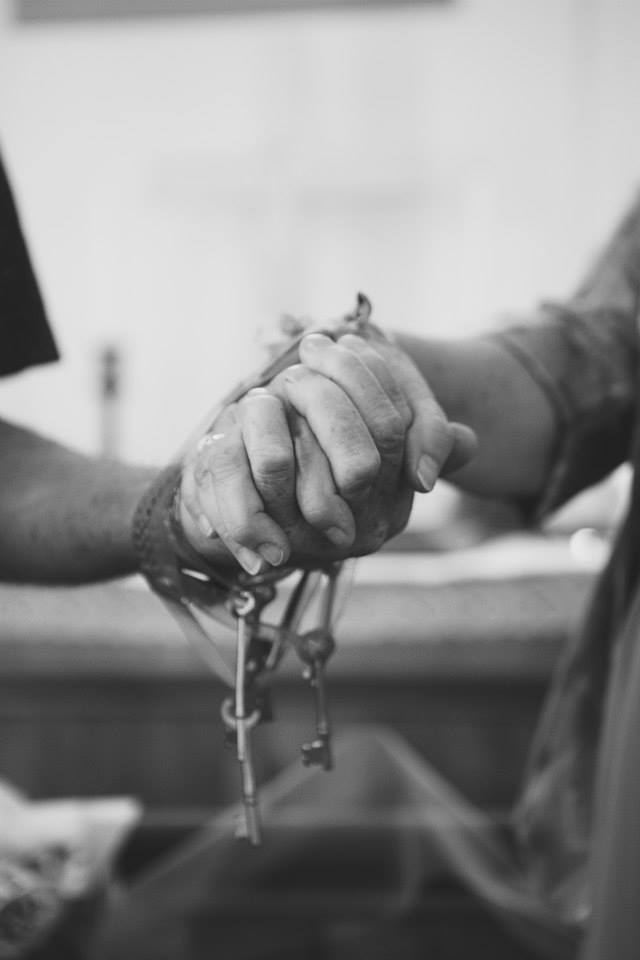 During the ceremony, my cousins, their children, and my children presented the couple with the "Keys of Love", sharing verses from this poem and echoing a hand-fasting ritual by draping their entwined hands.  (More future Christmas decorations!)
My aunt and uncle reaffirmed their traditional vows (though much to my uncle's chagrin, she still refused to "obey").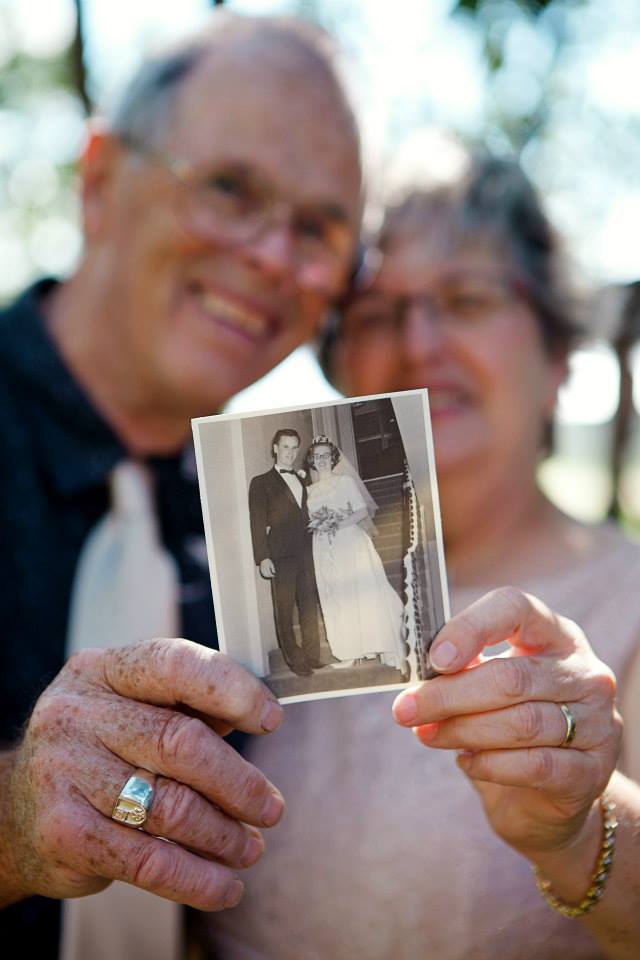 I was delighted to be a part of this milestone...I was lucky enough to be at their wedding 50 years ago (I was their flower girl) and hope to be able to celebrate many more anniversaries with this extraordinary couple.  We should all be so lucky to have such excellent role models for long and happy marriage.

For more photos please try the link below!

{{{#www.facebook.com/media/set/?set=a.1037746352932881.1073741948.126399090734283&type=3">Wednesday,}}}-@@-{{{http://

(function(d, s, id) { var js, fjs = d.getElementsByTagName(s)[0]; if (d.getElementById(id)) return; js = d.createElement(s); js.id = id; js.src = "//connect.facebook.net/en_US/sdk.js#xfbml=1&version=v2.3"; fjs.parentNode.insertBefore(js, fjs);}(document, 'script', 'facebook-jssdk'));




Categories: None