| | |
| --- | --- |
| Posted by anonymous on August 19, 2012 at 10:55 PM | |
What I have learned in the past 2 years is that there is no such thing as a "typical" wedding. I have seen both ends of the spectrum: from lavish and extravagent weddings at a posh hotels to the "just us and a few witnesses on the deck" ceremonies.  In all cases, the end result is the same:  Married! I absolutely loved the country details in the August 18th wedding of Miranda and Huw and thought I would write about how a simply beautiful wedding on a modest budget can be achieved.
Miranda and Huw opted to host their guests in a large yard in Anola, Manitoba.  They were blessed with a beautiful day and were married under the big prairie sky.  The bride had chosen a blue, white, and yellow colour scheme which was perfect in the outdoor setting mirroring the sky and wheat. A simple, rustic arbour helped to define the space and guests were seated on sheet-covered haybales.  A white runner edged by hay created the aisle and was flanked by white lanterns suspended on stands. To one side, a simple white table and chair held a navy and pearl covered box where later in the ceremony, Miranda and Huw would place love letters written to one another to be shared on their 10th anniversary.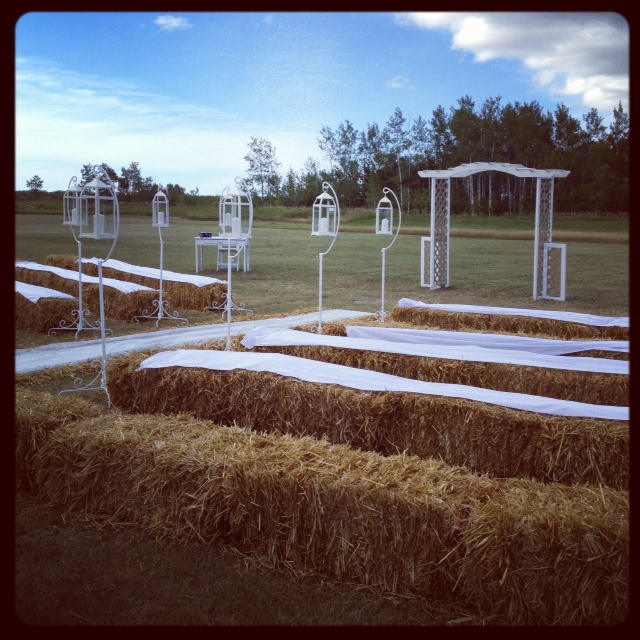 The reception tent held long tables that were draped in white linens.  Burlap runners and navy napkins bound with jute and adorned with yellow straws added a pop of colour,as did the big bunches of cut flowers in simple glass vases. White lanterns containing large pillar candles sat on the table to be lit after the sun went down.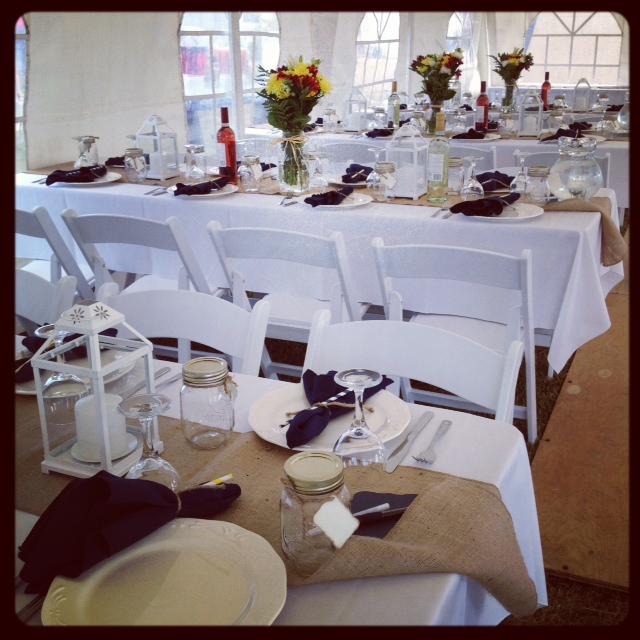 A display of guest favours (mason jars filled with cookie dough ingredients and covered with a navy and white fabric) was created in an applecrate and added to the rustic charm.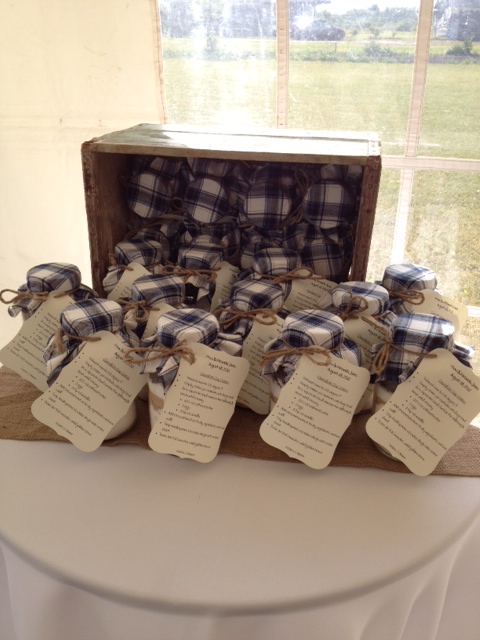 The total cost for the wedding fell under $5000.  How did she do it?  Miranda says, "I used the wedding show as a great starting point and kijiji. I spent many long nights on the computer searching for the best prices. My biggest thing was the burlap runners and that was the hardest to find but I spent a lot of time shopping around since we had a tight budget. We didn't want it to look like we cut corners and we didn't want something that looked "cheap" so I think that was our biggest challenge. Most rewarding was finding things that worked together and seeing them all set up: right from  the bales to the table runners to the mason jar cookies to the cake stand."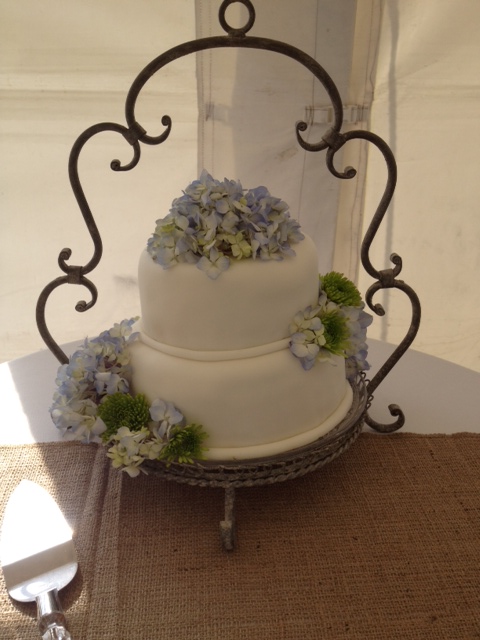 Categories: Feature Weddings