| | |
| --- | --- |
| Posted by anonymous on March 9, 2014 at 1:40 PM | |
Although there are many wonderful wedding venues in Winnipeg, for pure opulence, there is none better than the Fort  Garry Hotel. Emily and Jeff chose the seventh floor spaces of the hotel for their gorgeous celebration.  The ceremony was held in the Concert Hall Ballroom and I truly believe this to be the most stately venue in all of Winnipeg.  The fact that we were on a stage for the celebration of the marriage only served to gladden my drama teacher's heart.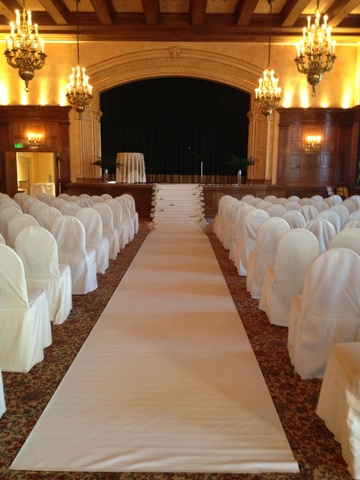 The loggia with its many conversation areas, all beautifully appointed,  were excellent locales for photos, and the small fireside room was bedecked with family portraits and featured a bar which served up signature cocktails. The foyer space was used for cocktailsand appetizers before the doors to the Crystal Ballroom opened for dinner.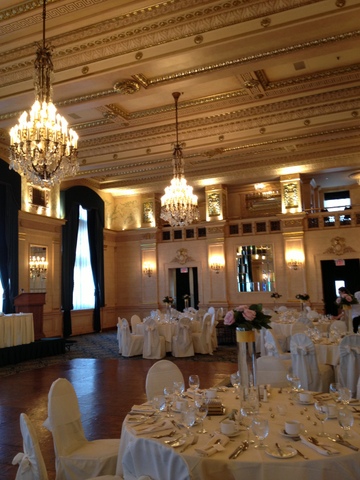 I loved the whimsical touches in Emily and Jeff's Fort Garry Hotel wedding.  When you start with a space as inherently elegant as the Fort Garry, you can afford to really focus on the details.
Guests were given beribboned wands to wave when the ceremony had ended and the effect was delightful.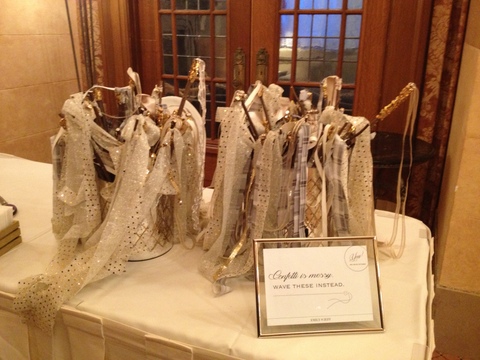 Emily and Jeff's wedding had details in spades!  I loved the wedding programs they created in the form of a newspaper.  The format allowed Emily and Jeff to share their story as well as give the ceremony "Who's Who".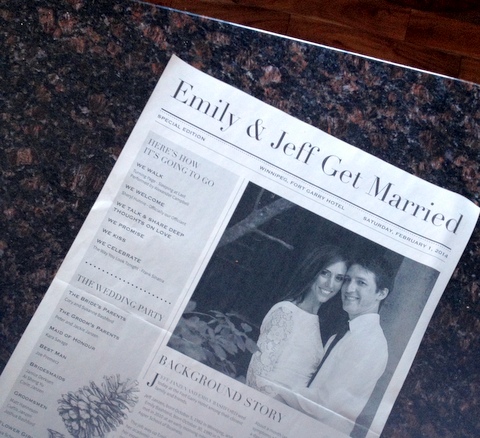 Table numbers were replaced with hand-gilded animals, which somehow did not look out of place in the grand ballroom. 

I later learned their guest favours were piecesof gold- embellished flatware; the thought being that whenever you used the "odd"piece, you would remember where it came from.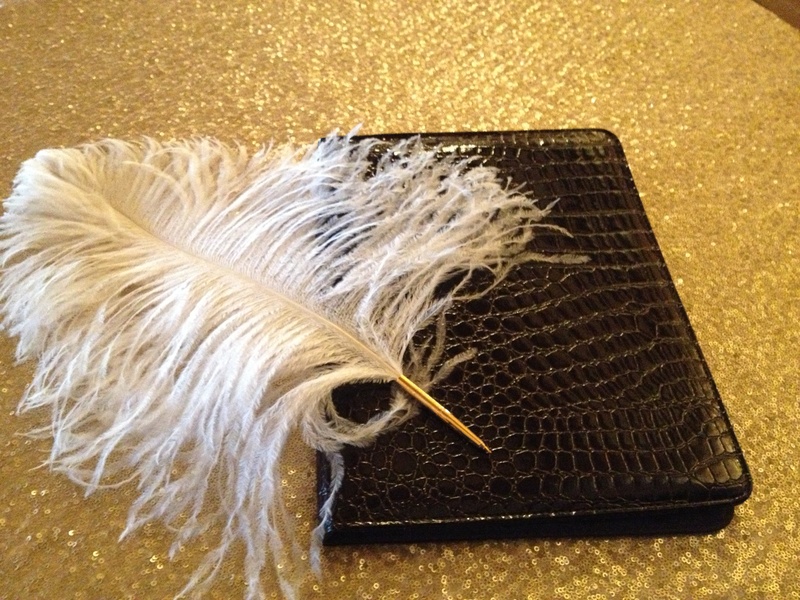 The ceremony itself was lovely.  Emily and Jeff were easy to work with and the ceremony we created together was a reflection of who they are together.  There were moments when the whole gathering was asked to participate, either by voicing their continued support for the couple, or in quiet reflection of their own loving relationships.  There were moments that were profoundly moving, and other moments (like the game of 'rock, paper" scissors" that seemed to go on for a number of rounds before "who goes first with their vows" was determined) that moved us to laughter. This is always my favourite part of being a Marriage Commissioner: when two people in love are willing to share their joy through tears and laughter with each other and their friends and family…and me.  I much prefer thinking of myself as a Celebrant, rather than an Officiant.
Thanks, Emily and Jeff, for allowing me to be a part of your very special day.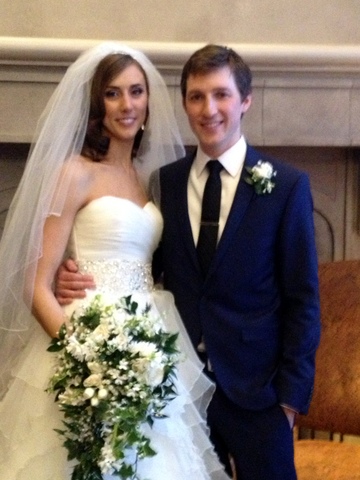 Categories: Feature Weddings